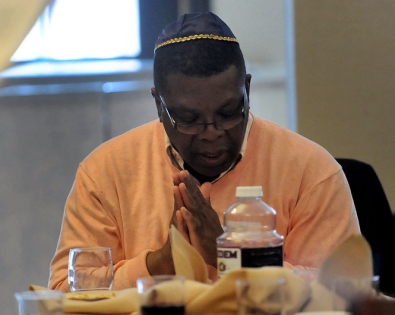 Tachlis
The Yiddish word tachlis means purpose, means, substance; "brass tacks," as in, "Let's get down to the tachlis of inclusion." This is the mission of the Tachlis of Inclusion program at SJFS: to reach out to Jewish clients with special needs and their natural supports in the community, bringing Jewish holiday and cultural experiences to them as well as training in cultural competency to residence staff and other service providers. The result is inclusion: of individuals with and without disabilities, Jewish and non-Jewish, the greater community of fellow travelers on life's journey.
Birth of an Idea
On September 14, 2011, Syracuse Jewish Family Service held its first educational program for some 30 professional staff of Central New York group residences for the developmentally disabled. This Rosh HaShanah program kicked off the new Tachlis (or purpose) of Inclusion, which provides programming on Jewish values and traditions for residents of exceptional needs group homes, as well as training staff and administrators in the professional disability community on faith-based (specifically, Jewish) inclusion.
Included in this concept is expansion to our other natural constituency: residents of skilled nursing facilities, adult homes, and other congregate living environments for the aging.
Core Vision and Values
All individuals should have access to the expression of their spiritual and faith-based strivings. Most of the principles of person centered planning achieve new relevance when seen through the lens of faith-based inclusion. Jewish individuals with exceptional needs should have the access of other Jewish individuals to their faith community and its customs, practices and supports, as well as access to the meaning making inherent in spirituality.
Values and principles at the heart of Tachlis are person-centeredness; shared learning, collaborative, goal-oriented action, and reflective consideration in all settings and amongst all stakeholders; recognition of the authority of the subject individual; dignity and quality of life for all; and recognition and honoring of cultural diversity, strengths, and individuality within and across all families: including, ethnic, racial, spiritual, social, economic, educational, and geographic diversity.
We believe SJFS's Tachlis of Inclusion program operationalizes these values of inclusion in a uniquely simple wrap-around process: by building individual strengths and mutual, ongoing relationships between clients, direct care workers, informal supports, and faith-based institutions and volunteers. We do this humanistically: through the sharing of information and person-to-person encounters. The long-term and holistic nature of these relationships means (1) an individual's strengths and capacities, as well as interests and needs, are understood as they grow and change over time, and (2) both individuals and institutions are empowered to ask for and offer support, building into the fabric of the future community their mutual understanding, respect, and enjoyment.
Importantly, Tachlis is not a "once and done" but rather is backed up in time by a cadre of experts available for questions, ideas, and problem solving. Components of the program are the following:
I. Personal outreach to Jewish clients with exceptional needs and who are aging
A. Assembly of holiday-related gift bags with personal home delivery by teens, college students, and volunteers
B. Creation of and invitations to accessible Jewish holiday observances and other events
II. Train the Trainer
A. Creation and dissemination of a resource manual for Jewish inclusion in the context of the developmental disabilities and aging services networks. The manual contains modules on the holidays and core values and practices of the faith and culture
i. Staff Guide with explanations and practical ways to observe the holiday or implement the value, appropriate for use and enjoyment by those with no prior knowledge and who are not necessarily Jewish; a resource section offers further direction
ii. Residents' booklet with appropriate stories and explanations, pictures, recipes, games, etc., to enjoy with Jews and non-Jews alike
iii. Gift Bag with typical items to celebrate holidays and traditions, food, small books, CDs, etc
B. Periodic small in-services and a regional (upstate New York) symposium (Fall 2012) to educate staff , administrators, and clients' informal support system members on the value and "how-to" of faith-based inclusion, specifically (but not exclusively) pertaining to Judaism and Jewish culture and how to make accessible experiences for individuals with exceptional needs
III. On-going resource center:
A. Answer general or specific questions about Jewish customs and traditions and about faith inclusion
B. Locate resources local to the person asking for materials or events
C. Connect to other resources in the Jewish and/or disability world
D. Assess the need for repeated or new events, services, an connections
The Idea Develops
A second event was held for Chanukah on December 7, 2011, attracting over 60 area group home staff and staff of most of the area's agencies dealing with disabilities, as well as two representatives from the Faith-based Initiative Program of the NY State Office for Persons with Developmental Disabilities in Albany: its coordinator, Reverend Catherine Patterson, and her aide, Margot Wibbe.
We have continued to reach out at the Jewish holidays with emails blasts of holiday announcements and information, as well as small-scale modules from the Tachlis Manual with staff- and resident-targeted activities, as well as resources. When possible, these informational communications are accompanied by invitations to our own holiday celebrations for those with aging-related or other disabilities. For instance, at Purim, a general invitation was sent out to agencies and group homes serving individuals with exceptional needs to attend the annual Purim carnival hosted by the Rothschild Adult Day Program of Menorah Park; we attracted 6 attendees from over 40 miles away to this event. Invitations are also issued to the Passover seders at the Jewish Home the Sukkah party at The Oaks at Menorah Park, an independent living community on our campus. Many members of our Havurah for individuals with developmental disabilities living in the community have joined in, as have their families and service staff.
The Tachlis of Inclusion manual is soon to be printed and offered for sale to group homes and providers of services to those with developmental challenges.
Impact and Commitment
The Tachlis Program has made a considerable impact on Menorah Park, the umbrella for Syracuse Jewish Family Service. Our kosher group home and Medical Adult Day program have become vested in both the community activities and the workshops. Individuals in these programs and their families, as well as their staff from other agencies (e.g., Medicaid Service Coordinators) have attended events and sought information from us at other times. In addition to strengthening our overall sense of mission, the program has furthered our strategic alignment with the Jewish, the disabilities services, and the aging services worlds. Material support and collaboration come from the Jewish Federation of CNY, National Council of Jewish Women Syracuse Section, and the Teen Funders of the Jewish Community Foundation of CNY (both of whom also provide hands-on volunteer support for gift bag delivery and events), as well as the NYS Office for Persons With Developmental Disabilities and its Faith-based Initiative Program. Virtually all local agencies dealing with exceptional needs collaborate with us regularly, such as in our annual Legal Services Resource Fair in association with the NYS Bar Association's Special Needs Planning Subcommittee.
It is our belief that our model of combining client, staff and natural supports in faith inclusion is a potential best practice that is easily disseminated and replicated across a wide area. By making our materials available to many other areas and traveling to present at conferences and other agencies, we can help others overcome the basic barriers of knowledge deficit and fears of the unknown and help others set out on their own exceptionally inclusive Jewish journeys.
The Menorah Park continuum of care campus been very involved in providing support and services to those with exceptional needs through its Rothschild Adult Day Program, and SJFS has provided faith based programming to Menorah Park's Group Residence (Beit Tikvah) since its inception in 2008. In addition, Menorah Park provides special programs for exceptional needs in the community.