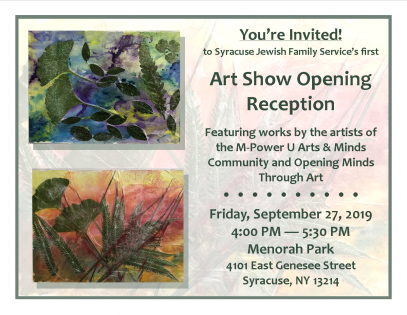 On September 27, from 4:00 pm to 5:30 pm, SJFS is inviting all members of the community to an opening reception to launch the agency's first art show, to be held through the month of October in Menorah Park's newly designated gallery. The show will feature works by the artists of the M-Power U (MPU) Arts & Minds Community and Opening Minds Through Art (OMA). 
The Arts & Minds section of M-Power U: A Learning Community for Early Memory Loss uses creative arts modalities to stimulate learning as well as self-expression and meaningful social engagement. It aims to empower people to take charge of their emotional, cognitive, and physical health and achieve overall wellness. 
The mission of OMA is "Building bridges across age and cognitive barriers through art." Jewish Home residents are paired with interns and volunteers who are trained to support the elders' creative expression in a series of weekly small group are-making sessions. OMA allows residents to access their creativity, find new outlets for self-expression, and enjoy social engagement. Volunteers and staff gain a structured opportunity to build and benefit from intimate relationships with people with dementia. Syracuse Jewish Family Service and Menorah Park is a certified OMA facilitator thanks to Menorah Park funding from the Legacy Foundation. The next series of OMA sessions will launch in October. 
All members of the community are invited to the reception and to view the art show as long as it remains hanging. RSVPs for the reception are requested to Deborah Ellis at 315-446-9111 x234 or by email to ellisd@sjfs.org.
Menorah Park is at 4101 East Genesee Street, Syracuse NY 13214.