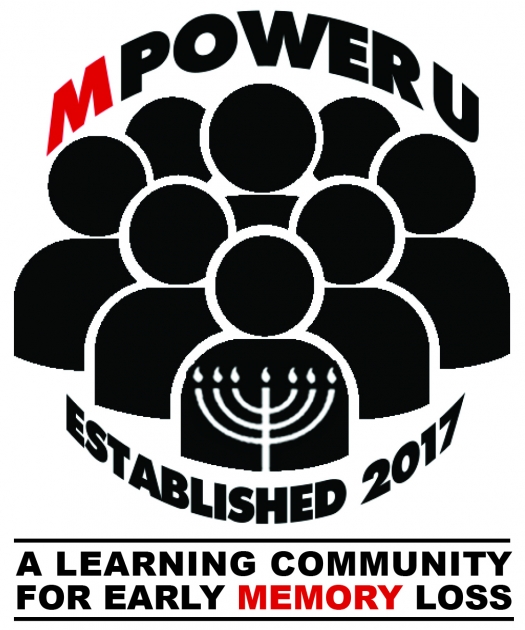 Syracuse Jewish Family Service (SJFS) at Menorah Park recently launched "M-Power U — A Learning Community for Early Memory Loss." MPU is for individuals who are experiencing cognitive changes, such as mild memory loss, mild cognitive impairment or early stage dementia. Participants come for a 4-hour session each week and learn practical skills in a supportive setting. Central to the program is the introduction of memory enhancement activities, compensatory strategies for memory loss, peer support, exercise, and socialization. Participation is limited to 15 participants to foster camaraderie and quality programming. Although the program activities are specifically for persons with early memory loss, supportive services such as information and referral, case management, and counseling can also be provided to family members.
MPU is the first program of its kind in Central New York. Seed funding was secured from the Brookdale Foundation, which has promoted the creation of similar programs around the country to address the gap in services for persons with early memory loss. The program is led by a team of professional staff and trained interns/volunteers.
M-Power U (MPU) is currently offered at Menorah Park every Monday from 9:30 AM – 1:30 PM. A second session will be added this summer on Thursdays from 1:00 – 5:00 PM.
Individuals who wish to participate or volunteer in the program can email Ellen Somers, SJFS Assistant Director or call 315-446-9111, x.225, for further information.
Mondays 9:30 AM to 1:30 PM
Coming soon: Thursdays 1 pm to 5 pm
Veranda Room at Menorah Park
4101 East Genesee St.
Syracuse, NY 13214
Call 315-446-9111 x234, or email, for information or to schedule an assessment for enrollment