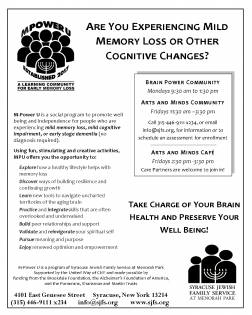 Are you experiencing mild memory loss or other cognitive changes?
Take Charge of Your Brain Health and Preserve Your Well Being!
M-Power U is a social program to promote well-being and independence for people who are experiencing mild memory loss, mild cognitive impairment, or early stage dementia (no diagnosis required).
Using fun, stimulating and creative activities, MPU offers you the opportunity to:
Develop a supportive network with others experiencing similar changes
Learn strategies to strengthen or compensate for memory loss
Learn how to change your lifestyle to be more brain healthy
Learn healthy coping strategies
Become educated about other community resources
Receive educational and support services for your family members and care partners
Develop confidence and a sense of optimism about your future
Syracuse Jewish Family Service (SJFS) at Menorah Park's "M-Power U — A Learning Community for Early Memory Loss"  is for individuals who are experiencing cognitive changes, such as mild memory loss, mild cognitive impairment or early stage dementia. Participants come for a 4-hour session each week and learn practical skills in a friendly and supportive setting. Central to the program is the introduction of memory enhancement activities, compensatory strategies for memory loss, peer support, exercise, and socialization. Each section is limited to 15 participants to foster camaraderie and quality programming. Although the program activities are specifically for persons with early memory loss, supportive services such as information and referral, case management, and counseling can also be provided to family members. 
M-Power U (MPU) is currently offered at Menorah Park in two different sections.
The first section is Brain Power Community. This section highlights our holistic approach to memory care through memory and cognitive training, coping strategies, lifestyle skills, physical exercise, and educational presentations, as well as periodic excursions to cultural venues. This section started in 2017 on Mondays from 9:30am - 1:30pm. 
As our second section we are proud to introduce the Arts and Minds Community — This new MPU section, launched in February, emphasizes creative self-expression, skill building, memory enhancement, emotional processing and communication through the arts. Participants engage in creative writing, painting, music, movement, and more, in a peer group setting with or without care partners. In the final hour, from 2:30-3:30 pm, we hold  the Arts & Minds Café (similar to a memory cafe), a social hour with an expressive arts experience shared by all. (Fridays 11:30 am –3:30 pm) 
Free through the end of August, thanks to the generosity of the Pomeranz, Shankman and Martin Trusts: The Arts & Minds Café hour is for all individuals in the community with concerns about early memory loss and their care partners to socialize, enjoy refreshments, and participate in a community-building end-of-the-week expressive arts experience. (Fridays from 2:30pm - 3:30pm)
Individuals who wish to participate or volunteer in our Brain Power Community or Arts & Minds Community can email Ellen Somers, SJFS Assistant Director or call 315-446-9111, x.225, for further information.
MPU is provided at Menorah Park, 4101 East Genesee St., Syracuse, NY 13214

MPU is the first program of its kind in Central New York. Seed funding was generously provided by from the Brookdale Foundation, which has promoted the creation of similar programs around the country to address the gap in services for persons with early memory loss. The program was also funded by a grant provided by Alzheimer's Foundation of America (AFA). The program is led by a team of professional staff and trained interns/volunteers.

Tuition varies by program, and discounts are offered for prepayment. Please inquire about scholarships made possible by our generous funders.