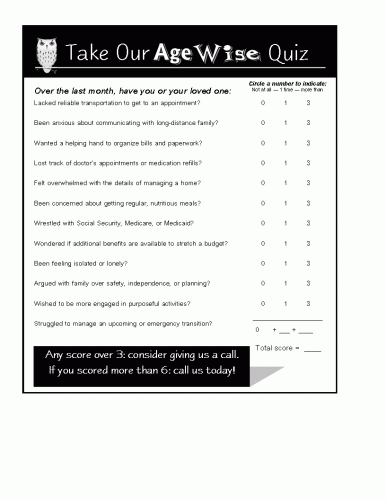 Imagine having your own personal expert in aging to accompany and guide you along the complex journey of aging.
As our life span has increased, adults, older adults and their caregivers have encountered unprecedented struggles of navigating the aging and social services maze. The degrees of difficulty in understanding the process, and finding, accessing, monitoring and trusting the quality of services can prove overwhelming, but having a professional guide along the way can make all the difference.
AgeWise Solutions's unique approach addresses the total well-being of clients and their families through an integrated program that includes assessment, planning, service coordination, advocacy, and direct care by an interdisciplinary team led by a geriatric care manager. We address and coordinate solutions for all the domains of well-being: emotional, physical, social, spiritual, financial, intellectual, and environmental.
The full range of services is personalized according to the level of need and preference, and changes over time as new needs emerge. AgeWise Solutions is especially beneficial for people who need help with managing household bills and paperwork; those with complex problems, chronic medical illnesses or memory disorders such as Alzheimer's disease; those who require close oversight and coordination of care; and those without close family or whose family members live at a distance.
Imagine how your own personal aging expert can help with: